Choosing the Best Marina in Barcelona for your Yacht
When selecting the best marina in Barcelona for your yacht, it is important to consider several factors to ensure a great experience. Barcelona is one of Europe's most popular cities, renowned for its vibrant culture and breathtaking coastline. With something for everyone, it offers distinctive qualities and facilities. Direct Berth specializes in connecting yacht owners with their ideal mooring spot, catering to individual preferences. We analyze the difference of two marinas, both having their unique appeal. Considering various factors, we have compiled a comprehensive list to help you determine the one that best fits your preferences. There is something to cater to everyone's needs, although individual desires may vary. In the next paragraphs, we discuss the positive characteristics of Marina Port Vell and Marina Vela.
Why Barcelona is a Top Destination for Yachting Enthusiasts?
If you're seeking a docking location in Barcelona, you have a wealth of options to choose from. The city boasts several exceptional marinas, each offering unique features and amenities. Whether you're drawn to the luxury of Marina Port Vell or the vibrant atmosphere of Marina Vela, you'll find a docking spot that aligns with your preferences. Direct Berth specializes in connecting yacht owners with their preferred mooring spots, ensuring a seamless reservation process and a sense of peace of mind. Discover a yacht berth of 50 meters at Marina Vela.
A Great Variety of Yacht Berths of All Lengths
Barcelona is renowned for its vibrant maritime culture and stunning coastline, making it a coveted destination for yacht owners and enthusiasts. One of the key advantages of this coastal city is the great variety of yacht berths of all lengths available throughout its marinas. Whether you have a small yacht or a luxurious superyacht, Barcelona offers berthing options to suit every size and type of vessel.
The marinas in Barcelona are well-equipped with an extensive range of berths to accommodate yachts of various lengths. From compact berths suitable for smaller yachts to spacious berths capable of hosting mega yachts, there is a berth to meet the needs of every yacht owner. This versatility allows yacht enthusiasts to dock their vessels conveniently, ensuring a comfortable and hassle-free experience.
The Luxury Haven of Marina Port Vell
Marina Port Vell is known for its elegance and luxury with a historic charm in the heart of Barcelona. One of the biggest advantages of Marina Port Vell is that it is located in the historic district and it has breathtaking views of Barcelona's iconic skyline. You can enjoy the cultural heritage of the city, easily explore the sights, and discover the nearby neighborhoods. Because of climate change, Marina Port Vell has been developed in terms of sustainability. At Marina Port Vell, wastewater is managed using a special system. An advanced vacuum-operated system collects grey and black water from the superyachts, preventing its discharge into the sea. This helps protect the marine ecosystem.
Marina Port Vell offers the possibility to moor for a short visit or for a longer period. It has a total of 56 berths with lengths up to 190 meters including one of the longest piers in the world (400m). Their dedicated team of professionals is committed to providing personalized assistance and ensuring your booking process is effortless.  Currently, there is a 70-meter berth in Port Vell for superyachts available through Direct Berth. Please check the Marina Port Vell page for all available moorings.
Exclusive Services and Facilities in Marina Port Vell
Indulge in the utmost luxury as Marina Port Vell presents a host of exclusive and top-notch services tailored to meet your every need. It is a fully gated marina with 24-hour security. For convenient transport within the marina, we provide electric golf carts, ensuring easy and efficient mobility throughout the premises. Additionally, our delivery service ensures that any necessities or provisions you require are promptly delivered to your yacht. Additionally, you can take advantage of Gymnasium and choose from a wide range of restaurants in the heart of Barcelona.
At One Ocean Marina Port Vell, a variety of social events take place all year round, uniting individuals with a common love for yachting. From elegant cocktail parties to themed festivities, these gatherings provide an excellent platform to connect, build relationships, and bond with fellow yachting enthusiasts. Whether it's a chance to network or simply enjoy the company of like-minded individuals, these events offer a delightful and enriching experience for everyone involved.
Marina Port Vell also has hosted various yacht shows and nautical events over the years. These yacht shows may include exhibitions of luxury yachts, sailboats, motorboats, superyachts, marine accessories, and related services. Salon Nautico and MYBA (Mediterranean Yacht Brokers Association) are popular yacht shows and nautical events that take place in various locations, including Marina Port Vell.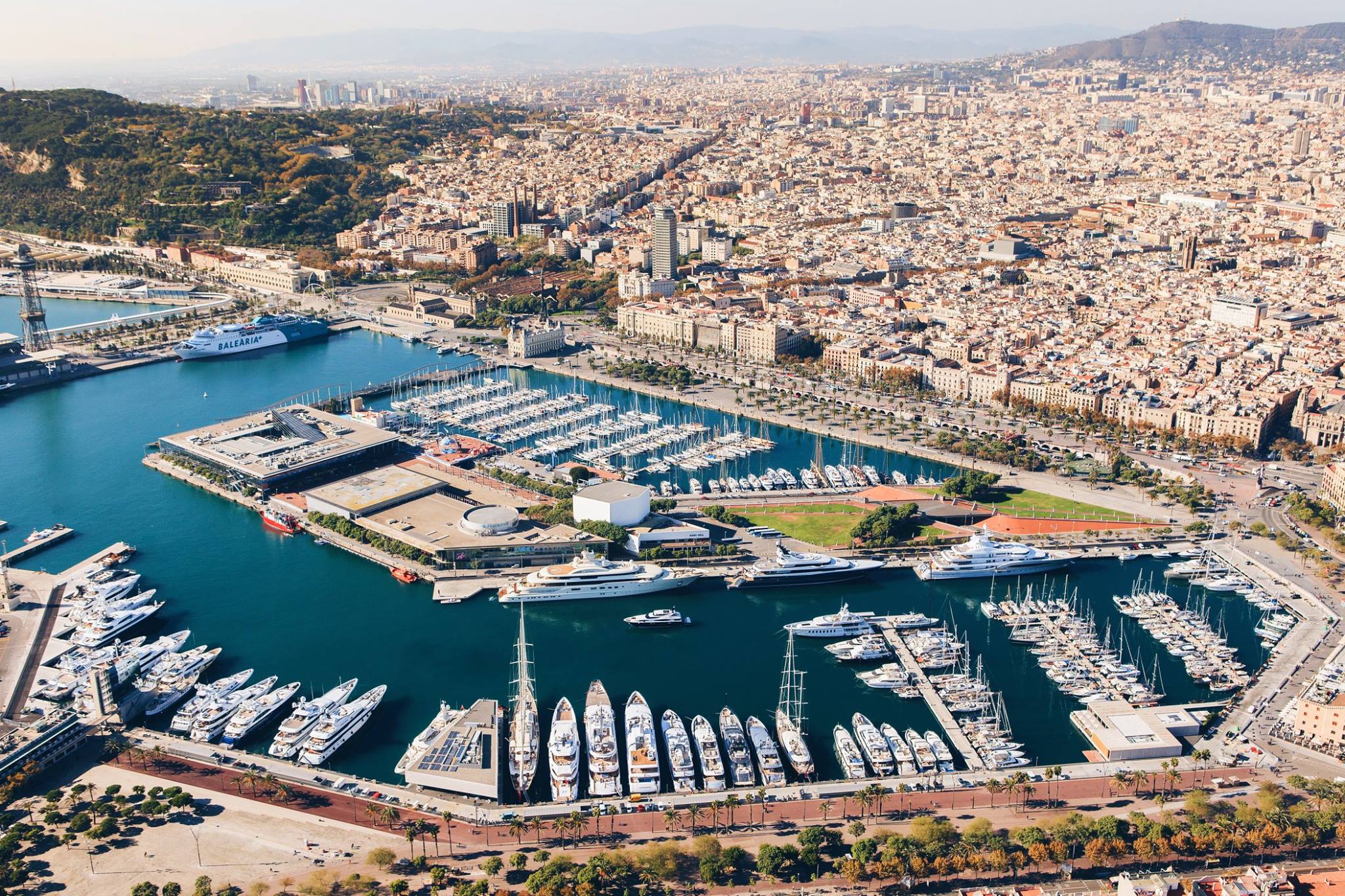 The 37th America's Cup Barcelona
Something that you can't miss is the grandeur of the 37th America's Cup, an international event scheduled from August to October 2024. The cup takes place in the vibrant heart of Barcelona, the beautiful capital of Catalonia, known as one of the world's most sought-after destinations. On top of that, it is also near Port Vell and along the sunny beach of Port Olimpic, making it a wonderful venue.
On August 22, 2024, Barcelona will have the honor of hosting the official opening ceremony of the 37th America's Cup.  The racing area, located right at the port entrance breakwaters, is positioned in front of special areas for fans, platforms on the beach where you can watch, and a place for guests to enjoy themselves. This setup ensures that everyone gets a fantastic view of all the exciting racing.
Discover what else the America's Cup Barcelona has to offer.
Discover the Allure of Marina Vela Barcelona
Marina Vela is situated right by the W Hotel, close to Barcelona's city center. It also has become the chosen place for leading companies in the nautical sector to establish their headquarters. Explore our selection of around 136 rental berths available at affordable and competitive prices, perfect for yachts from 12 to 90 meters in length. The marina offers a great mix of dining and leisure making it a top spot for yachting lovers. Marina Vela has many modern facilities that provide convenience and comfort. It is therefore an attractive option for people who are looking for a place where there is enough choice when it comes to services. You have easy access to the vibrant city of Barcelona, and it offers the opportunity to explore cultural attractions and hip neighborhoods quickly and easily. Marina Vela offers a captivating blend of luxury and convenience, providing the ideal combination of comfort and proximity to the lively city of Barcelona. Whether you need a calm hideaway by the waterfront or seek to immerse yourself in the vibrant culture of the city, Marina Vela got all the possibilities. 
Exclusive Services and Facilities in Marina Vela
Marina Vela Barcelona offers state-of-the-art facilities, making it an exceptional home port for yacht enthusiasts. It enjoys a prime location just a short distance from highly sought-after Mediterranean destinations like Costa Brava, Balearic Islands, Costa Azul, Corsica, and Sardinia. Above this, this marina provides a comprehensive homeport experience, including a 24-hour deckhand service, assistance with maneuvering, and access to amenities such as services and showers.
Marina Vela  takes pride in having its own petrol station within the premises. It's called Termopetroli Marina Vela and is open seven days a week, with the marina's staff attending to it. They provide refueling services for diesel and gasoline 95 at the gas station pumps. Moreover, yachts starting from 30 meters in length, which are docked at Marina Vela, can now use a new refueling system directly at their berth. There currently is a 50-meter berth available at Marina Vela for those with a superyacht seeking a mooring.
The catering industry at Marina Vela is impressive, offering a diverse and high-quality selection of dining options. Yachties and visitors alike can enjoy a delightful culinary experience with a remarkable blend of restaurants and cafés. In addition to this, we have exciting news! The new Mirador restaurant will open its doors at the end of October. It will be an exceptional yacht club, high-end dining with various services for crew and superyachts. The Mirador restaurant isn't just a place to eat; it's a place for people who love food and luxury.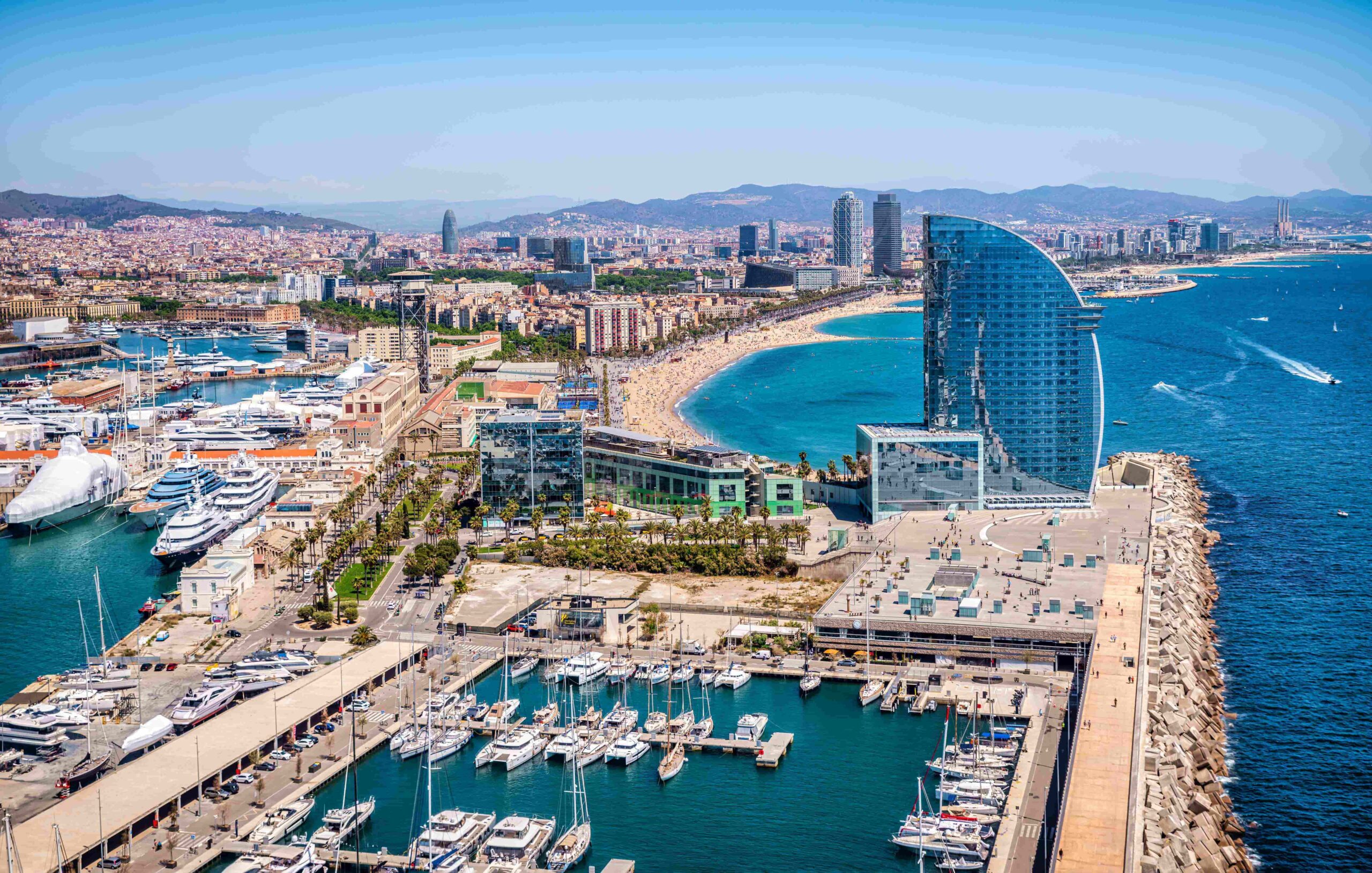 Which Marina Suits your Yacht Needs Best?
When it comes to finding the perfect marina suite for your yacht in Barcelona, several factors come into play. Each marina offers its unique advantages, and choosing the one that best suits your needs is essential for an enjoyable experience.
Consider your preferences, desired atmosphere, and the services and amenities you value most when choosing the marina suite that best suits your yacht's needs in Barcelona. Each marina offers its unique charm, ensuring a memorable experience on the beautiful Mediterranean coast. Here, we help you navigate through a selection of top-notch marinas, each tailored to cater to different yacht requirements. Whether you're seeking a bustling city marina with vibrant nightlife or a tranquil retreat for peaceful sailing, we've got you covered.
Are you interested in Barcelona's marinas?
Are you a yachting enthusiast looking to explore the vibrant marinas of Barcelona? Look no further! Direct Berth is your go-to company for all your mooring needs in this beautiful city. Our expert team specializes in connecting yachties with their dream mooring locations, ensuring a seamless booking process and peace of mind. If you need help choosing the right berth for your private vessel, please contact our berth broker.
If you're ready to embark on your Barcelona marina adventure, contact us! Are you ready for your maritime journey, but do you want to look further for more beautiful locations? Take a look at all of our berth listings to discover more.
Are you looking for moorings around the Mediterranean Sea area? Take a look at all the possibilities in this stunning area. Don't miss out on this incredible opportunity to experience the best of Barcelona's marinas. Contact Direct Berth and let us make your yachting dreams a reality!