POSTED On 24.01.2023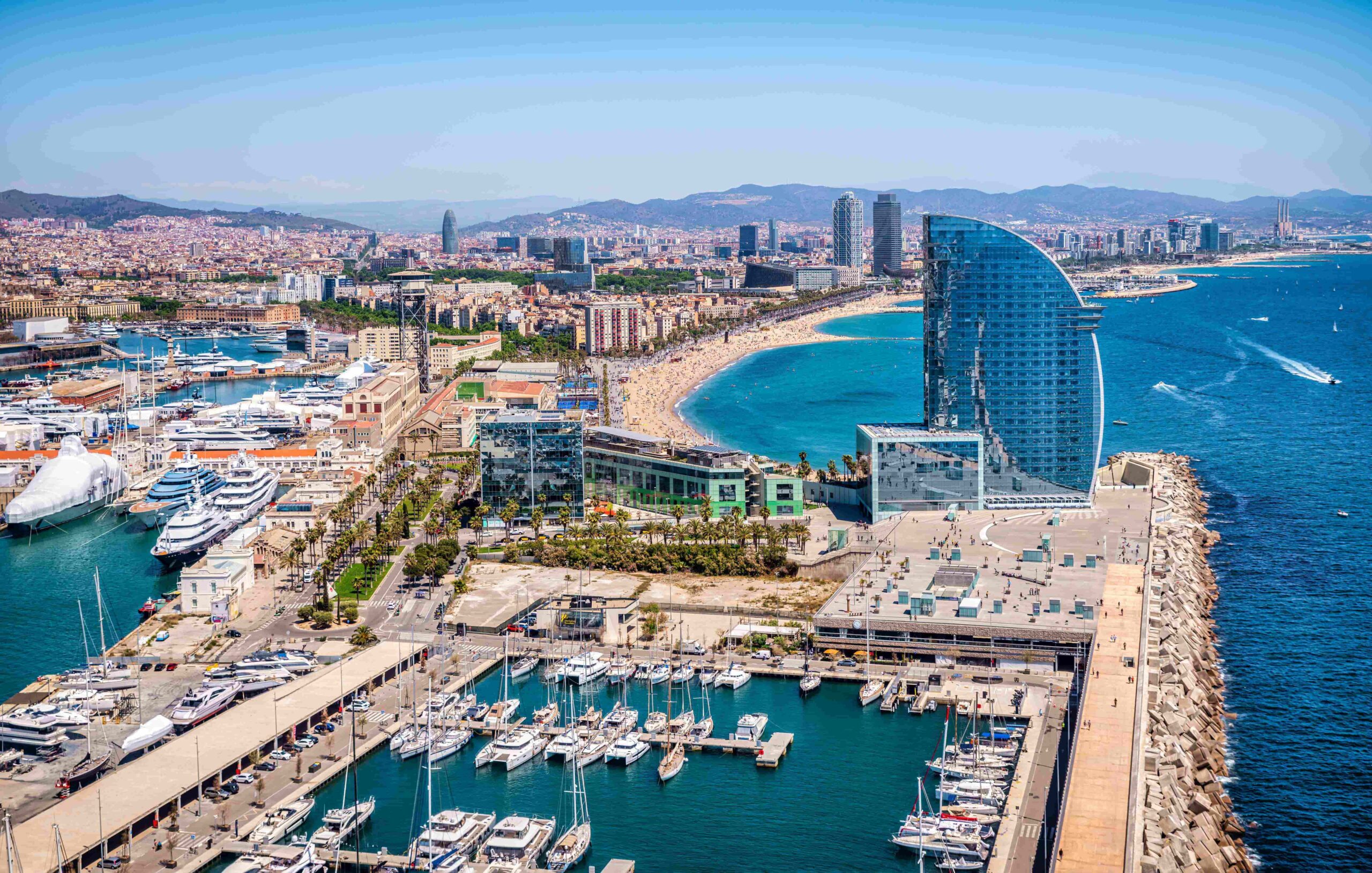 Barcelona
The office in Barcelona is the second Direct Berth office in use. Barcelona is a popular destination for yacht owners due to its Mediterranean climate, beautiful coastline, and numerous marinas and ports. Barcelona is a great nautical city because of the perfect connection to the open sea. The city is easy to access from the Mediterranean and multiple shipping routes will lead you to the city's ports.
Highlights of Barcelona
Barcelona has a rich cultural heritage, making it very interesting to discover the city's treasures. One of the most famous highlights and a UNESCO World Heritage Site is The Sagrada Familía. This iconic church was designed by the renowned artist Antoni Gaudi. He is also the creator of Park Güell, a beautiful park filled with colorful mosaic art, architecture, and sculptures.
We should not forget about Barcelona's food culture! The delicious Mediterranean cuisine is very prominent in the city. There is fresh seafood and incredible tapas available all-around town. Also, after dinner, you can discover Barcelona at night as the city has an amazing and vibrant nightlife for everyone.
The new Direct Berth combi office
As the highlights imply, Barcelona is a true metropolis! Therefore, Barcelona is also one of our prime locations. That is also one of the reasons why we have decided to work from that location during certain periods of the year. This way we can handle business faster and more efficiently. The new office will, however, not be used for physical appointments as it is an apartment and office in one. Of course, it is still possible to make an appointment with us. We will take our appointments outside on one of the terraces nearby with a nice, cold beverage!
The office is located in one of the ports where Direct Berth also operates. This port is called Marina Vela and is located within walking distance of the city center. Marina Vela has a great shipyard, MB92, which is known for its great facilities and staff. The Direct Berth office is on one of the main streets in the port area. This street is Passeig de Joan de Borbó and goes along the entire port.
Why did Direct Berth move to Barcelona?
Besides Barcelona being a fantastic city there were other reasons why Direct Berth decided to move to this city. One of those reasons is to have a presence in the area as a mooring broker and to be closer to the work site around the Mediterranean Sea.
Barcelona is also a world city with many opportunities and possibilities. It is also quite easy to fly in and out of, which makes flexible working easier. This way Direct Berth can stay involved with everything that is going on in the city during peak times.
Also, Barcelona's ports are very popular with yacht owners. One of the reasons this location is popular is its attractive prices compared to the berths in the Balearics, for example. Besides that, many offers are received from yacht agents and other yacht services implying that the city is also preferred by crews of superyachts.
Why did we choose for an office in Marina Vela?
One of our most popular marinas in Barcelona is Marina Vela. It is known for its 5-star services, amazing features, and great location. Marina Vela has a shipyard next door that's known as Barcelona Nautic Center, which is just 50 meters from the port. Here they specialized in the repair and refit of motors and sailing boats. Besides, Marina Vela also has its own petrol station where you can refuel with diesel and gasoline 95. In addition, the marina offers a new refueling system that allows yachts above 30 meters to fill their tanks directly at the berth. Marina Vela offers 24h security, deckhand services, storerooms, and exclusive parking.
Currently, there is a yacht berth available for a 50-meter yacht in Marina Vela. More information about this 50-meter yacht berth can be found here.
Visit the combi office
Since the new office isn't a walk-in type of office, we will take our meeting to the Marina office or in one of the restaurants/ café in the port office nearby. If you want to come to the marina for our appointment, it's good to know that you can easily come by public transport. The best way to come to the port is by taking a taxi. Taxis are a fairly cheap way of moving around Barcelona. The port is located just behind the W Hotel on the Pg. Jean de Borbi 103. Are you planning on visiting by car? There are many parking lots located within and around the marina. 
Of course, you can always connect us for questions or if you'd like to plan an appointment with The Berth Concierge.